International Ibc Regulation Act 2014 Brokerage License
Autonomous Island Of Mwali (Mohéli) Comoros Union
PO TRADE LTD is registered in the Bonovo Road, Fomboni Island of Mohéli, Comoros Union with the registration number HY00422007 and the license number T2022086..
The Registrar of International Business Companies certifies that having satisfied all the requirements in respect of incorporationunder International Business Company Act, that all the requirements of said Act in respect of incorporation have been complied with. In accordance with the mandate granted to the Office of Mwali International Services Authority by the International Act 2001 of the Autonomous Istand of Mwali (Mohéli).
View Certificate: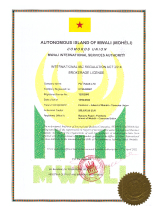 IFMRRC
PO TRADE LTD is registered at Rodney Bayside Building, Rodney Bay, Gros-Islet, St. Lucia with the registration number 2019-00207.

PO TRADE LTD is regulated by MISA (License T2022086).
View Certificate: